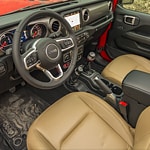 The new Jeep Wrangler is more than an SUV. This vehicle can be seen as a way of life because it brings so much value to people's lives. The options are nearly endless if you choose this vehicle. Consumers can expect multiple trim levels, plenty of engine power, advanced technologies, and advanced safety components.
From an interior standpoint, the new Jeep Wrangler has near-perfect dimensions and is nearly flawless. This interior comes equipped with high-quality upholstery, and there are a plethora of storage options. There are also a number of colors and trim combinations that are available. At least five persons can fit in the cabin of the four-door model. The Jeep Wrangler goes on to provide 7.0 and 8.4-inch touchscreen displays. Popular apps can be found here for your enjoyment. There's also an Alpine sound system.
Hit us up at our dealership for a test drive while the offer still stands.