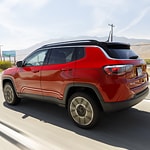 The new Jeep Compass is more than the average SUV. This amazing vehicle will ignite your senses with its technological advancements and impressive amenities. Up to five people can seat in the cabin, and the seats are configurable. The vehicle's Alpine audio system produces concert-like sound, and there are various trim levels to choose from.
Sleek and sexiness are two terms that perfectly describe this SUV's façade. The exterior of the new Compass is modern and edgy. Bold contours are present along the door panels, and the hood is well sculpted. You won't be able to ignore its strong body lines. The SUV's High-Intensity Discharge headlamps are masterfully crafted into the frame. On an overall level, this vehicle has no exterior flaws. Consumers can also expect high wheel arches and strong body molding that wraps around the frame.
Head over to our dealership for a first-hand tour, and we may offer a free test drive.