A Hellcat Engine in a RAM Truck Leaves Consumers Anticipating the 2021 RAM 1500 Release
Rarely is there a new truck release that we look forward to as much as we are in anticipation of the 2021 RAM 1500. Continuing into the fifth RAM generation of trucks that was initiated in 2019, consumers can expect to see a huge development in the upcoming years model lineup.
Adding in a new trim level that utilizes the same engine that the Hellcat sports car is known for, buyers can expect the performance and power that is available in a 2021 RAM 1500 to be unsurpassed. One weak spot for RAM has always been the lack of an off-road model to fill in the gap where competitors were sneaking in. Adding in a TRX trim has eliminated this discrepancy, making RAM trucks more appealing than ever. Seeking out a design that is fresh and new, RAM hit the nail on the head with its newest and most innovative addition.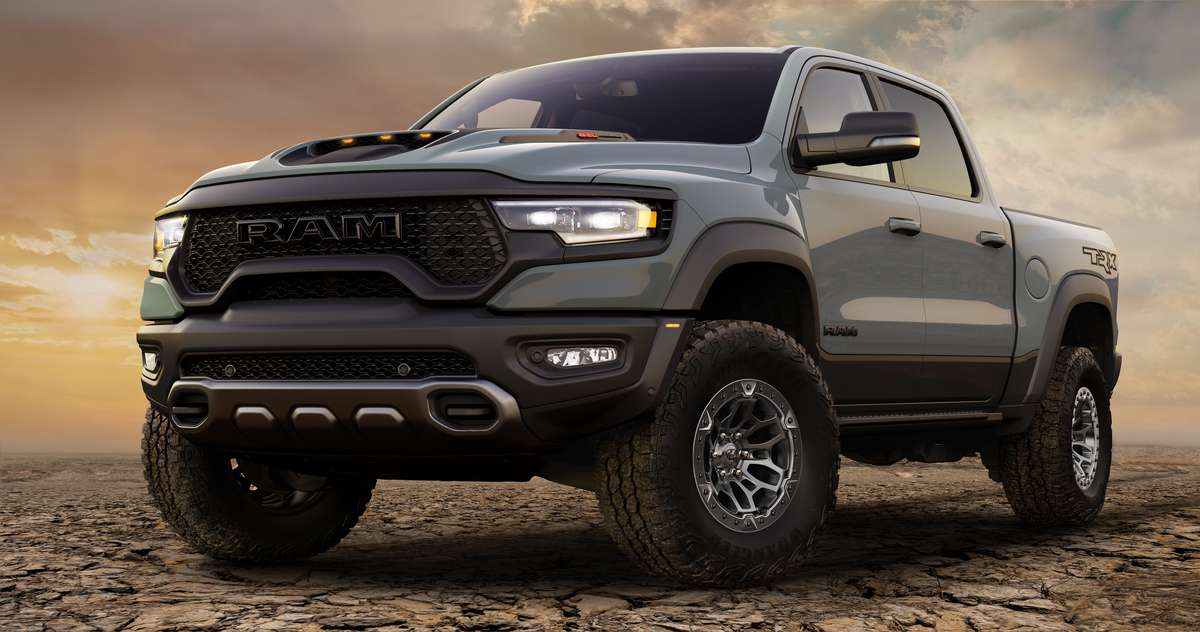 New and Sustained Performance Attributes
While the new TRX trim level in all of its glory is something we are ecstatic about, it doesn't mean we want to overlook all of the new developments that aide in the performance aspects of other trim levels.
In fact, some of the features that are currently included in the RAM Heavy-Duty truck lineup appear to be trickling down into this category of light-duty RAM pickup trucks, like the 1500. Currently ranking as best-in-class for its towing capabilities, the RAM 1500 EcoDiesel is about to get even better. An overhaul of towing and hauling capabilities will include an eTorque mild hybrid system and a 3.0-liter turbodiesel that can deliver up to 480 pound-feet of torque.
Complete with three engine options that are all paired with an eight-speed transmission and a choice between all-wheel or rear-wheel drive, buyers have multiple selections to choose from in their new RAM 1500.
Interior Space Upon Space
Recently released details regarding the 2021 RAM 1500 have just been made known to the public, and we like what we see.
Seating for up to five passengers is available in the Ram 1500 with ample leg room and headspace for passengers in both front and back seat areas. Available in Crew Cab or Extended Cab configurations, buyers have the option to choose from two varying bed lengths and two-wheel drive or four-wheel drive options.
With over 151-liters of storage volume in the cab, the RAM 1500 offers a unique in-floor storage solution and multiple center console configurations for buyer personalization. Charging for up to five phones and storage for a 15-inch laptop are all available in this modern center console setup.
Elegant and Sophisticated Interior Features
Cloth, vinyl, leather, or suede are the interior fabric options that are available in the 2021 RAM 1500. Not only does this truck play off a contemporary look, but it also focuses on buyer customization in a way that pickup trucks rarely do. Featuring one of the largest touchscreens available, the RAM 1500s 12-inch touchscreen is complemented by split screen capabilities and auto-zoom technology for a user-friendly experience.
A Premium seven-inch digital cluster display brings information about your RAM 1500 right in front of your eyes for consistent monitoring, while Active Noise Cancellation helps reduce ambient sound to create a quieter driving experience. A media center complete with multiple USB ports, including a few fast-charging options, and three 115-volt outlet options also adorn the interior of the 2021 RAM 1500.
Learn More Today!
Based on the specs of the new 2021 RAM 1500, we can't wait to see and experience this modern pickup truck. Contact Iverson Chrysler in Mitchell, SD to set up a test drive and see what you think about this innovative new pickup truck.